Use this DIY to Replace the Thermostat on a 1998-2005 Lexus GS
Works For:
1998, 1999, 2000, 2001, 2002, 2003, 2004, 2005 Lexus GS Models
Lexus GS Models include: GS 300, GS 400, GS 430
Source: JZS147
Toyota Thermostat 90916-03093
Toyota Thermostat seal 16325-62010
Toyota Red coolant (Do not use any other coolant than Ethyl Glycol based)
Remove the radiator cap. Jump under the car (when its cold and on good stands.) Remove the undertray. Unscrew the water release valve and empty the coolant into a bucket or whatever.
The thermostat housing is located behind and above the alternator.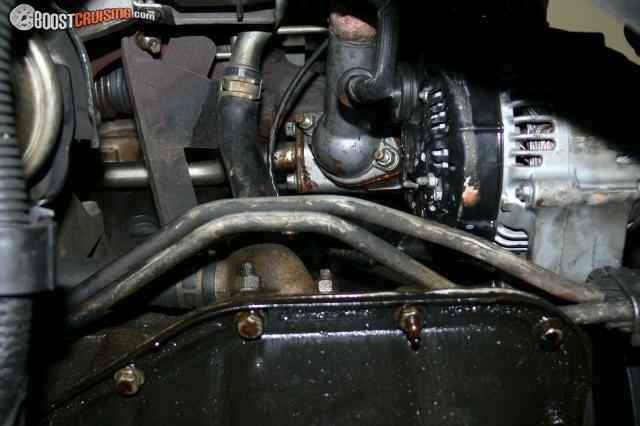 Undo the bottom radiator pipe clamp and pull the hose off the housing. Careful of any water that might empty on you.
Undo the 2x 12mm nuts that hold the housing in place.
Pull out the housing and thermostat. Youll be left with this: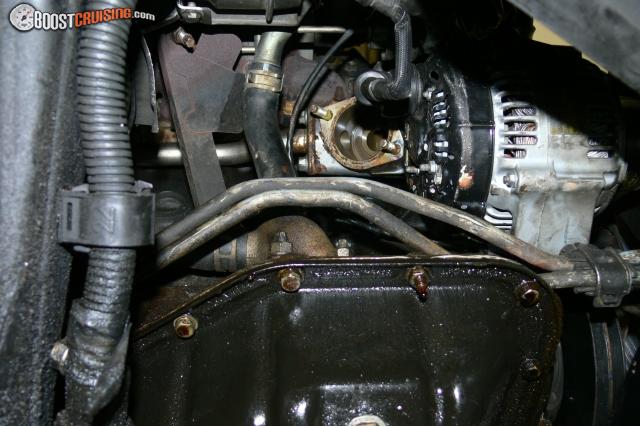 Thermstat housing: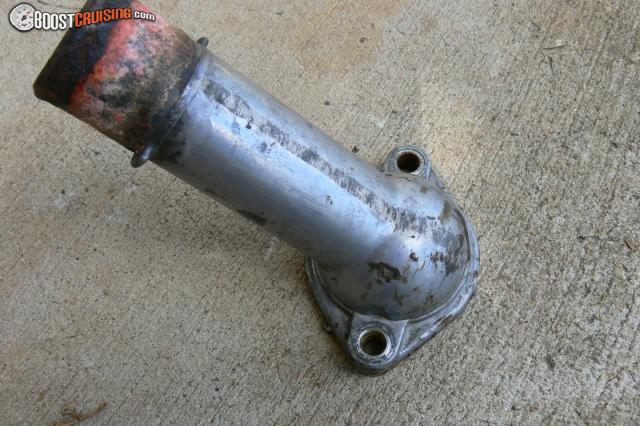 Thermostat inside the housing: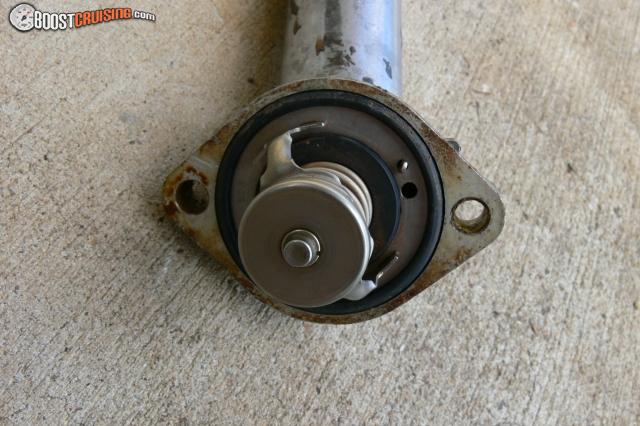 Now you have 2 options. Replace the stock 82 degrees thermostat around $15-$20 or upgrade to a low temp (68-78degree) thermostat.
After searching around i found nengun can supply several different low temp thermostats for the aristo/2JZGTE. Average price was around $80 plus shipping.
Its only a peice of metal with a temperature set spring, so i went to my local radiator joint and pulled out their TRIDON catalogue. After searching for about an hour, i found a thermostat with almost perfect dimensions. Part Number: TT228-170P Its 2mm smaller in outside diametre, but the rest is exactly the same as stock. Whats a bonus is you can get the thermostat in several operating temps. 68 degrees, 77 degrees, etc…
I ordered the 77degree or 170F thermostat because the peak power range for the 2J is around 84degrees.
Here she is on the left compared to the old stocka on the right: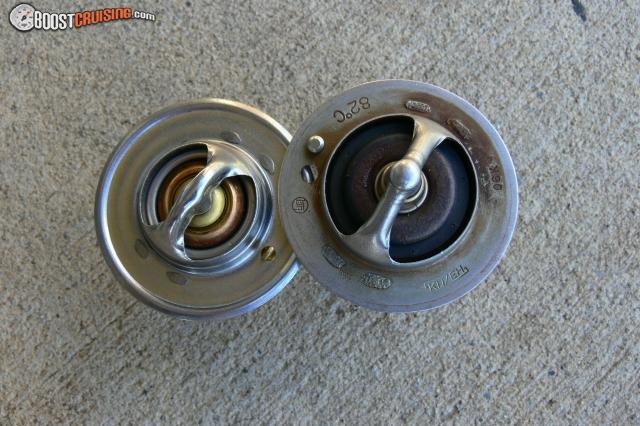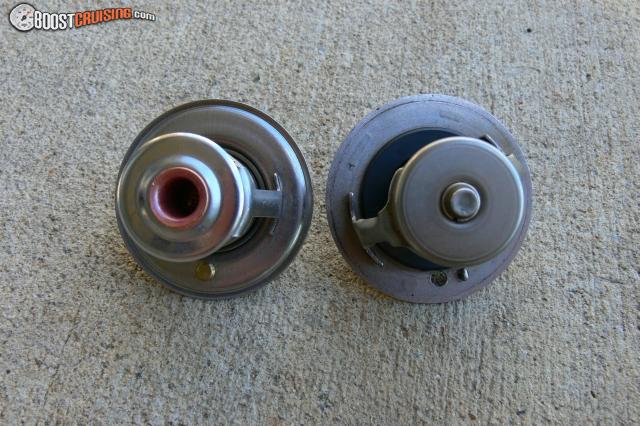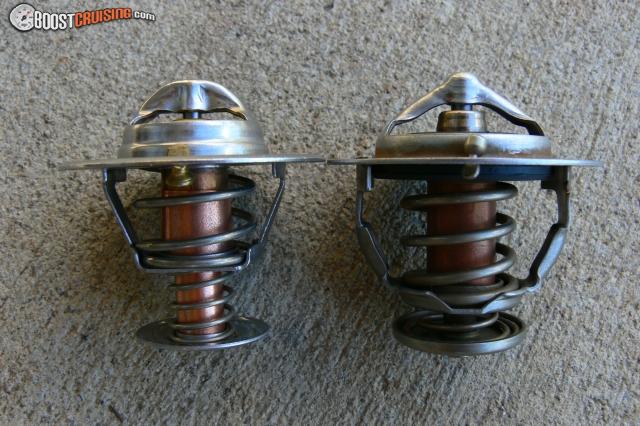 Yes the water opening diametre is a little smaller and the spring assembly looks different, but it all works perfect.
Install the thermostat back into the housing. If you got a new seal, you wont need any gasket gue, but as my seal was old, i didnt want to take any chances and pasted a little around the housing to seal it up tight. Throw it back in then complete the above in reverse. Once you've filled the radiator up, make sure you start the car without the cap on and top it up if it goes down. Then throw the cap on, go for a drive till its up to normal operating temp. Go home, wait about 15-25minutes, pop the cap off, slowly and with a rag so you don burn yourself, and top the coolant up again. Ensure the overflow bottle is also at the full level. Job done 

When you install the thermostat, make sure the little hole with the little metal thingy is inline with the knob on the housing. This is extremely important as it will allow air bubbles to pass through the thermostat.